I don't listen to Mike the way I used to, but i've been revisiting the Steps Ahead "Live 198 Denmark" recording. This recording is great for so many reasons.
I've always loved Steps Ahead, As a group, they play together so well. Sometimes when people with vast levels of skill get together it sounds like math. Not the case here. The music is dynamic and flows seemlesly through melodies and solos, with everyone blending together.
The line up is:
Mike Mainieri – Vibraphone
Michael Brecker – Tenor Saxophone
Eliane Elias – Piano
Eddie Gomez – Bass
Peter Erskine – Drums
I enjoy all the tunes. They're melodic and interesting, seemingly written to maximize everyone's strengths, but perhaps everyone is just so amazing that they naturally vibe on these tunes. Brecker's sound just sours on these melodies. Pools has epic solos by everyone. "Skyward Bound", which has always been one of my favorite tunes on the studio release, features a solo by Brecker on it, which is an interesting change from the studio version. Sara's touch is one of Mike Mainieri's tunes, and not originally on the Steps Ahead studio recording. It can be found on Mike Mainieri's solo album "Wanderlust" and well as the Steps album "Smoking In the Pit". Brecker, Eddie, and then Mike all build nice solos on this and all come down to nothing afterwards. Beautiful dynamic skill.
Then things get weird. Not the playing mind you, but the track listings. The song "Duo" features Elaine and Mike M, and starts with Elaine swinging over some changes and then morphs into part of a tune that I believe to be "Patch of Blue", that can be found on the Steps album "Paradox. It then suddenly cuts into "Both Sides of the Coin". Brecker makes a non typical key sound like whatevs. Incidentally, I don't think I have that many albums with tenor solos in concert Gb. Actually, off the top of my head, I can only come up with one.The first tune off Mike Stern's recording "Odds or Evens". The song is named "Keys" and it has Bob Berg singing his way through an outro solo in a way only Bob can.
The weird things….Both side of the coin is listed as the final track. When I first saw 20 minutes, I said sick, Mike must go off. Nope.While he does in fact go off on the actual "Both Sides of the Coin", this last track isn't that song. It's literally 3 tunes of someone else's set.I have to listen to it more to figure out who it is. It's super familiar, but I have to do some listening. When you research this Live 1983 Steps Ahead album, there are multiple pages on the internet with info about it. NONE of them mention that the last track is totally someone else. LOL It's on both Spotify and iTunes like that. A bunch of people didn't do proofread their work. I mean, how does that even happen? LOL. Too funny.
Another strange thing is that the cover on Spotify has a picture of what looks like Richard Bona, when it's pretty obvious from the playing/bass sound that it's Eddie Gomez. For this reason I thought it might be a bootleg someone just put on Spotify, but when you go to the iTunes Store, it's there. In fact, that's where I originally saw/bought it.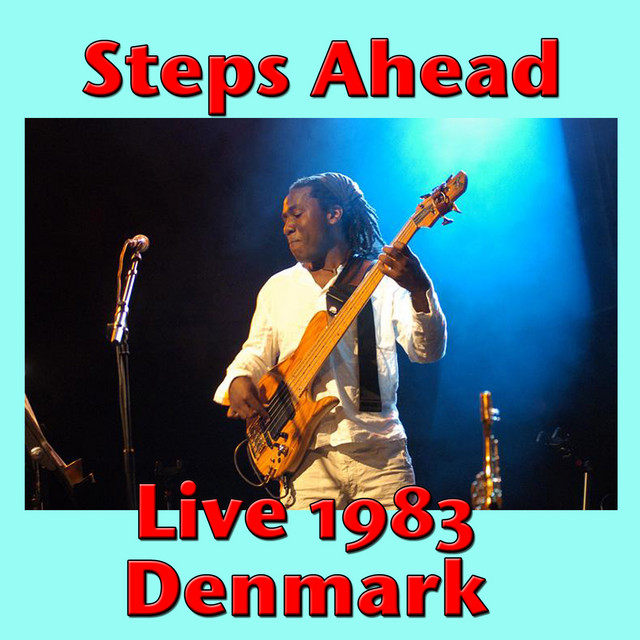 There's some looseness/tentative entrances etc on a couple of tunes that on first listening made me wonder if this was recorded on a tour prior to hitting the studio, but the show on this recording was recorded in 83, as was the studio album, which means that the studio session was probably sometime in 82′ I believe the actual recording dates were listed on the liner notes of the cd, but that's hidden away in a crawl space, so I'll have to wait a while for that answer.
From a saxophonist, and fan of Michael, this is prime 80's Michael. I have always been partial his sound in the years he was on his Dukoff mouthpiece, as well as the early Gaurdala mouthpiece years. His sound is just huge. It was already starting to change a little by the time his third solo album (Now You See It, Now You Don't) came out.
This recording has a plethora of late 70's/80's Brecker-isms that will make any Brecker enthusiast feel warm and fuzzy. He goes at it hard too. There's some spirited playing here. What's funny is that when you see video of it, he looks totally relaxed while he's doing it, which is actually a nice lesson in physical efficiency. This is important for people with (or that want to avoid) overuse issues, or injuries (like myself). Interestingly, Mike has a wrap around his neck while he recovers from his own injury on this concert. I've posted the video of the whole concert below.
I hope you enjoy it as much as I do.
Peace.